Bi-Weekly Residential Recycling Service

Depending on your location, we offer bi-weekly recycling as an add-on with your residential trash service. If you already have weekly trash service with us, it's only a couple more dollars for us to add recycling!
Call us or Sign Up today to add this service!
Your Recycling Dates
**Please have container curb side the night before to ensure pick up!**
Acceptable and Non-Acceptable Items for Recycling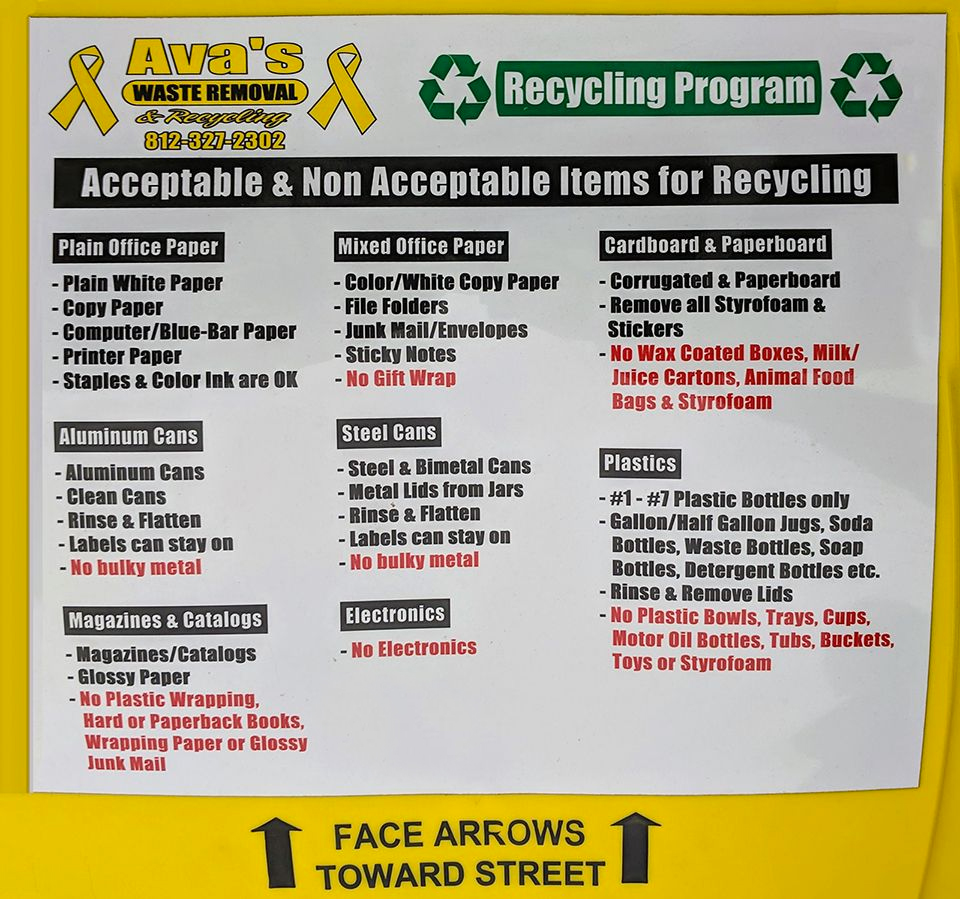 Plain Office Paper
Plain White Paper, Copy Paper, Computer/Blue-Bar Paper, Printer Paper, Staples & Color Ink are OKAY
Aluminum Cans
Clean Cans, Rinse, Labels can stay on, NO BULKY METAL
Magazines & Catalogs
Magazines/Catalogs, Glossy Paper, NO PLASTIC WRAPPING, HARDCOVER OR PAPERBACK BOOKS, WRAPPING PAPER OR GLOSSY JUNK MAIL
Mixed Office Paper
Color/White Copy Paper, File Folders, Junk Mail/Envelopes, Sticky Notes, NO GIFT WRAP
Steel Cans
Steel/BiMetal Cans, Metal Lids from Jars, Rinse, Labels can stay on, NO BULKY METAL
Electronics
We cannot accept electronics.
Glass
We DO accept glass
Cardboard & Paperboard
Corrugated & Paperboard, Remove all styrofoam and stickers, NO WAX-COATED BOXES, MILK & JUICE CARTONS, or ANIMAL FOOD BAGS & STYROFOAM
Plastics
#1 to #7 Plastic Bottles only, Gallon/Half-Gallon Jugs, Soda Bottles, Detergent Bottles, etc., Rinse and Remove Lids, NO PLASTIC BOWLS, TRAYS, CAPS, MOTOR OIL BOTTLES, TUBS, BUCKETS, TOYS, OR STYROFOAM